How to Earn Bitcoin By Selling Your Amazon Gift Cards
How to earn crypto on Purse
Did you know, with Purse you can buy bitcoin through any payment option that Amazon accepts?
That includes Amazon gift cards, rewards credit cards, Amex Membership Rewards, Chase Sapphire points, Amazon credit cards, and credit cards. Purse provides you ultimate flexibility in liquidating unused Amazon gift card balance, and allowing you to purchase Bitcoin or Bitcoin Cash using various different forms of payment. You can change what type of cryptocurrency you want to receive as payment, we support BTC and BCH.
Just follow these easy steps to get started:
1. Navigate to Earn and browse the available orders.
2.

Click on an order to preview, then select "Accept Offer".
3.

Carefully review the amount of BTC you will receive, then follow the instructions to purchase the items and the specified Quantities from Amazon
4.

Make sure to adjust the quantities in your cart to match the order
5.

Select the same shipping address highlighted during checkout.
6.

Ensure the "This item is a gift" checkbox is selected. Failure to do so will result in order delays!
7.

Double check that the order total is correct.
8.

After placing the order on Amazon, copy and paste the Amazon Order # and estimated delivery date (ETA), and enter it back on purse.io and hit "Confirm Order" to finish the process
9.

Upload the tracking number once your order is shipped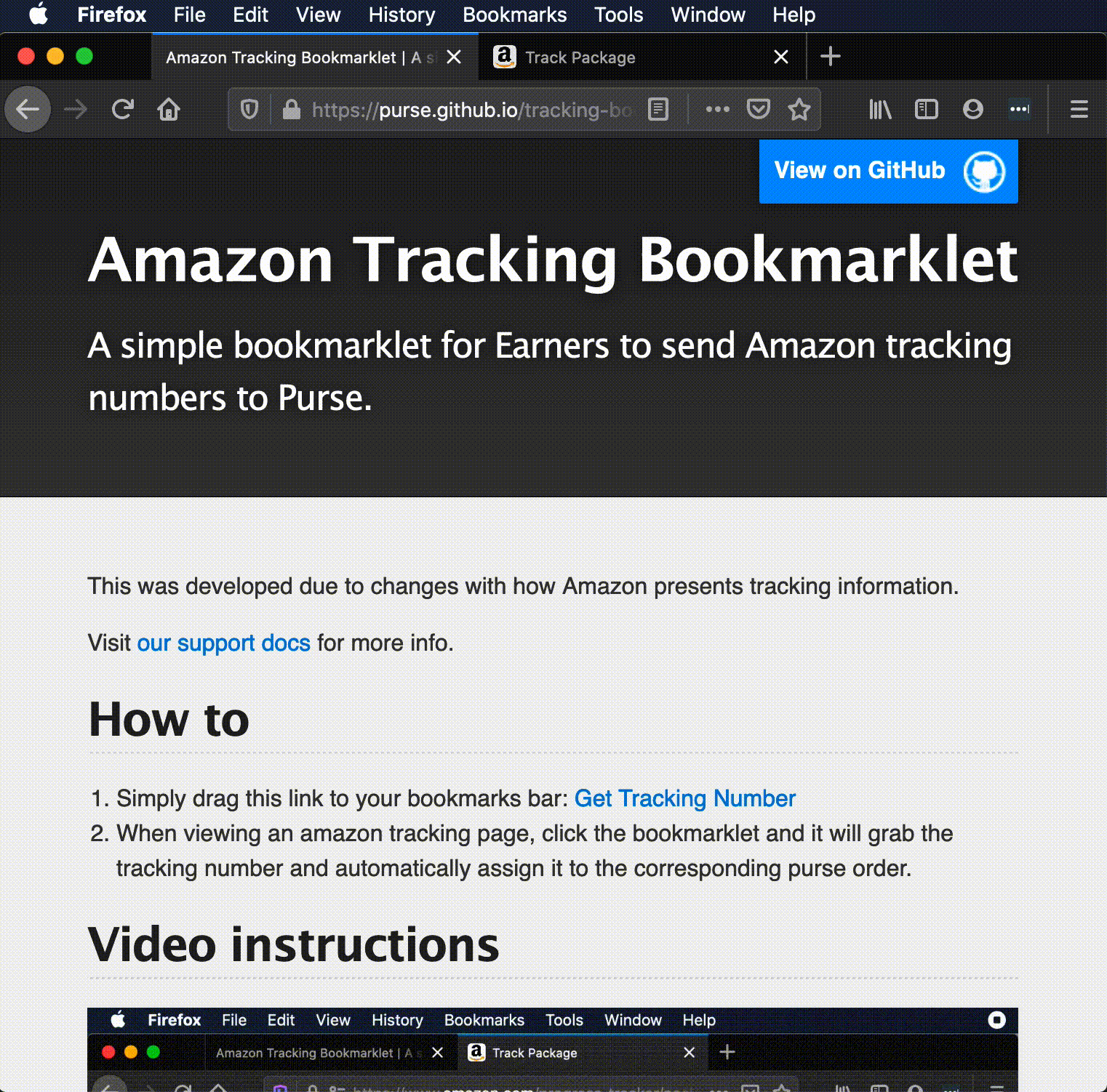 Rules to remember
After placing the order on Amazon
The estimated delivery date (also known as ETA)

must

be specified in your Purse order, please make sure to attach it to your order with the instructions in step 8.
Additionally, you will have to use our bookmarklet tool to get the tracking number from the Amazon tracking page of your order. The bookmarklet will grab and automatically upload the tracking number to the corresponding Purse order. Using the bookmarklet tool is safe and secure, it doesn't perform any actions in your Amazon account, it simply pulls the tracking number hidden in the Amazon tracking page.
Time Limits and order processing
In average, Amazon orders take 2 business days to ship, our support team will reach out to you if it has been 3 or more days without shipping updates. Please ensure to stay on top of your order and upload the tracking number as soon as possible. If no shipping info is available by the time the support team contacts you, simply let us know in the order chat. Unresponsive earners who don't provide accurate information about the status of the order might be suspended from Purse, and the order cancelled.
Similarly, if we detect that the order has been shipped, and no tracking information has been uploaded, the order will not be completed. Earners have up to 5 days after the order is detected as shipped to provide tracking information before being issued a final cancelation warning. To stop the cancelation countdown, simply upload the tracking number and write a message in the order chat.
After order delivery
Once the order has been delivered, the shopper will receive a notification, they will have up to

48 hours

after the delivery to check it and confirm the order. Make sure to upload the tracking information as soon as it is available to you. It is also important to mark the orders as gifts during the checkout process, otherwise, shoppers won't be able to return orders on their own and we will have to contact you to provide a return label.
All Earners

must provide a copy of the official Amazon purchase invoice

if requested by support, there are no exceptions. To know more about how to be a good earner and get better deals, please check out our How to Be a Good Earner article in our support center.
Common issues and how to solve them
The Items are not available in the Wish List page

(add-to-cart button is missing): Amazon dynamically changes product availability depending on the default address from your account (not the Wish List shipping address), so make sure you have a US shipping address selected for your account or just put a zip code like 33178 in there.
After entering the zip code or US shipping address the items will become available, if they don't, then it's because the items are really out of stock, in that case, please cancel the Purse order. If the add-to-cart button is available for each item, you can go ahead and follow the checkout process. Make sure you select the Gift Registry's (wish list) address, not your own address.
Updated on: 24/10/2022